Each year since the inaugural Taste of Hope in 2017, the Young Ambassadors' annual food fest has created more excitement, drawn bigger crowds and, most of all, generated more funds to support the global communities we serve. Like most everything in 2020, pulling off a successful Taste of Hope presented a particular challenge this year. Given the demands presented by adhering to health protocols, gathering size limits, and uncertainty about the likelihood that people would attend an event — no one would have faulted the Young Ambassadors for taking a pass this year. But as a credit to the group's creativity and energy, the Young Ambassadors redesigned what had been a gathering of 300 inside the Wings of Hope hangar into a caravan of cars winding through the Wings of Hope parking lot to say hello to volunteers, vendors and staff on their way to picking up gourmet carryout cuisine. DJ Carlos Suarez contributed to the festive vibe, as did a special Salsa dancing demonstration by Axa and partner Colleen.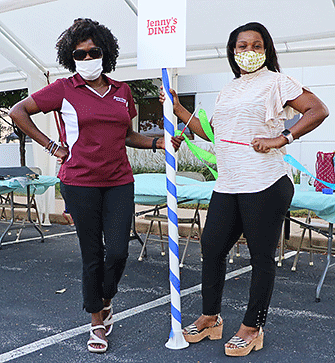 Not only was Taste of Hope Drive-Thru a success but, much to everyone's surprise, the drive-thru version set a new fundraising record — raising more than $30,000 through sponsorships and ticket sales. Earlier this year, the Young Ambassadors voted on where they would direct money raised by their fundraising efforts in 2020. Papua New Guinea and Colombia won the vote, so the bulk of the event's proceeds will support medical air transport and health care programs serving communities in these locations.
Wings of Hope owes a debt of gratitude to Dierbergs, Taste of Hope presenting sponsor for four years running, and the following sponsors: Joe-K Used Cars!, Air Choice One, Dassault Falcon Jet, F3, Phillips 66, Aero Charter, The Triangle Company, AVMATS, National Cart Company and Bott Radio Network. Big thanks also to participating restaurants: Thai 202, PM BBQ, Charlie Gitto's,
The Donut Stop, Viviano's, Vito's, Jenny's Diner, Smoothie King, El Burro Loco
and Mimi's Café.