Being Wings of Hope's only woman pilot seems notable — to just about everyone besides the pilot in question. After all, this isn't the first time Leslie Cuppett has been the only woman in the room.
She was the only woman in the aviation classes she took at Florida Institute of Technology where she graduated with a degree in Air Commerce Flight Technology. And she was one of the few women pilots flying for a regional carrier in northern Virginia in the 1980s and '90s.
So when did Leslie's love for flight begin?
"As long as I can remember, I always wanted to learn to fly. But as best I can pinpoint it, when I was little, my dad took me to the library and we got a kids' biography of Amelia Earhart. I also remember being less than 10 years old sitting on my parent's patio in a cardboard box with a magazine. I would peer over the cardboard box looking down at the ground below, and I always remember wanting to fly," Leslie recalled.
Leslie didn't just dream about flying; she made it happen.
"I worked all through high school saving my money, and people would ask, what are you saving your money for? Well, I was saving it to fly," Leslie said. "Between my junior and senior year in high school, I talked a friend into going out to the airport with me and I took one of the discovery flights for $20 — and I signed up for flying lessons that afternoon."
Leslie grew up in Rockville, Maryland, and got her private pilot's license at Montgomery County Airpark in Gaithersburg, MD.
She left the cockpit for about 20 years to be a stay-at-home mom. When she got the urge to fly again, she joined Wings of Hope as a volunteer pilot for our Medical Relief & Air Transport (MAT) Program in 2014.
"Before returning to flying, I did a lot of volunteer work," she said. "So when I heard about Wings of Hope I felt that we were a perfect fit for each other. I could use both of my interests — volunteering and flying — in service to others."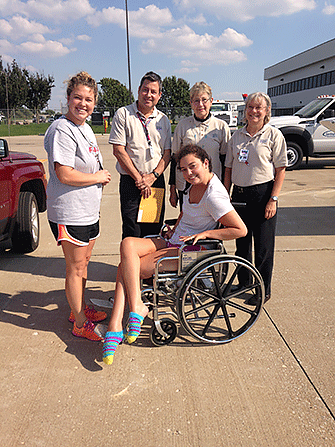 When asked about her most memorable flight, Leslie doesn't skip a beat. She was one of the pilots who flew Emilee, a young woman with Wilson's disease, to the University of Michigan for experimental treatment of the rare condition.
"Her sister had quit her job to take care of her and her parents were paying out of pocket because insurance wouldn't cover her treatment. It was so rewarding to see how her family was so committed to her — and we could help her," Leslie said. "Then, lo and behold, the treatment worked. And a couple of years later, I heard she was the speaker at the Wings of Hope gala. That was just so amazing to be a part of that."
After about a year of flying for Wings of Hope, Leslie returned to work as a pilot for a regional airline in St. Louis in the fall of 2015. Fortunately for us, Leslie retired in October of last year and rejoined Wings of Hope in December 2019. Today, she is a MAT pilot – and she volunteers one day a week helping out in the hangar.
"I love just hanging out at the airport and being around the airplanes — and I love learning the mechanics behind everything," she said. "I wish I had gotten my A&P (Airframe and Powerplant mechanic's license) when I was young."
The only job around the hangar Leslie doesn't like?
"When we came back from the Covid shutdown, I did touch-up painting for two months straight which was very frustrating."
Painting aside, Leslie said she is "glad I found out about Wings of Hope and am able to spend my time serving here."
"I get to do what I like, which is flying, and the byproduct is I get to take people places and just make their lives easier."