Our annual Hope Is Where the Heart Is Gala is our most highly anticipated event of the year. And our 2020 event, which took place February 8 at a packed Chase Park Plaza ballroom, lived up to the hype. With a record 475 guests and $417,472 raised, the event was a success by all measures.
The level of energy, engagement and compassion in the room was tangible – and most felt when guests were treated to the unique opportunity to see how their support of Wings of Hope is making a difference in the lives of two individuals we serve.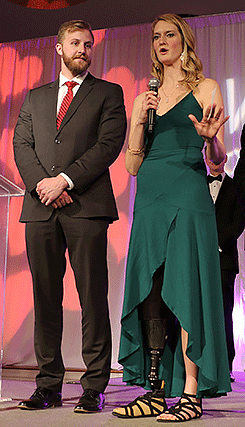 Melissa was the first to share her story. Melissa's Wings of Hope journey began in her early twenties. She collapsed while playing sand volleyball, almost died of heart failure and, as a result, had to have her lower leg amputated. At the time, she was studying to become a physician assistant in Kentucky. The local hospital couldn't provide her the specialized care she needed. Barnes-Jewish Hospital in St. Louis was the best option, but traveling to St. Louis for multiple surgeries and doctors' appointments posed a significant financial burden to the young graduate student. That's where Wings of Hope was able to help. Wings of Hope transported Melissa to the medical care she needed to get her life back on track. Since that first Wings of Hope flight seven years ago, Melissa completed her degree, got married, adopted a puppy and is now working in her dream job as a physician assistant.
After a thrilling live auction, 6-year-old Isaac and his family took the stage.
Isaac was born with prune belly syndrome and clubfeet. Unfortunately, local doctors could not straighten Isaac's feet. Isaac loved t-ball, but he struggled to run the bases. His parents, Jill and Drew, were heartbroken. One day, Jill learned about Dr. Matthew Dobbs at St. Louis Children's Hospital who is known worldwide for his expertise in treating clubfoot. Dr. Dobbs watched Isaac walk via Skype and said he could help.
It was a miracle.
But St. Louis was a 12-hour drive, one way. Their first visit for surgery was a three-and-a-half-hour drive to the airport, then a commercial flight. It was expensive, took all day, and they worried about their two children at home.
Then miracle number two happened: Dr. Dobbs told them about Wings of Hope.
Wings of Hope has flown Isaac 10 times roundtrip, and his progress has been life changing. Isaac still loves t-ball – and, today, he runs the bases like a pro.
As Melissa and Isaac shared their Wings of Hope stories, our guests were visibly moved – none more so than Isaac's mom, Jill: "Isaac had such a wonderful time at the gala, he felt super special and enjoyed showing off a few of his dance moves! It was so great for him to have this experience – to come full circle to a night of dancing and celebration with the special organization who made all the doctor appointments, surgery and the many leg casts bearable for such a young little boy."
Many thanks to all of our guests, sponsors and volunteers for making our 2020 gala truly a night to remember!