In August, Bret continued his fieldsite visits in South America, joined by Wings of Hope mechanic Curtis Kelley.
First stop Paraguay: Our field director, Cliff Schisler, uses a 1959 Cessna 175 to support the Guarani people with medevac services, health and dental clinics, food and other assistance. Bret
and Curtis joined Cliff on one clinic where they fed 600 people.
Then it was on to Ecuador to meet with Alas de Socorro del Ecuador (ADSE) — which translates to Wings of Help — an organization that provides medevac support to the Waorani people in the Amazon jungle.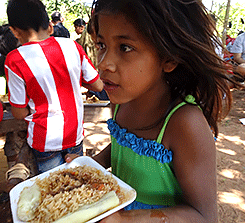 When they landed in a Waorani village, the Wings of Hope crew was greeted by Grandpa Dyuwi, one of the oldest living members of the Waorani. Every time a relief plane lands, Dyuwi rushes out to pray with the pilot and gives thanks to God for his safe arrival. The irony is that Dyuwi was part of a killing party that cut down five missionaries, including Nate Saint, one of the very first pilots who tried to provide assistance to the Waorani in the 1950s. Since that horrific day more than 60 years ago, Dyuwi has dedicated his life to making amends by welcoming all relief pilots who have come since.
Wings of Hope has a long history in Ecuador. We are excited to start the next chapter as we move toward a partnership with ADSE. We are also in talks with Centa, a group that operates a job skills training center on land originally donated by Nate Saint. Our involvement will be supporting ADSE's medical relief flights into and out of the jungle, as well as flying Waorani to Centa to participate in job skills training.
Before leaving South America, Bret and Curtis visited Colombia to observe how local organizations are providing health care to the indigenous people and explore opportunities for expanding into this region in the future.