The Wings of Hope hangar was a fitting venue for the Greater St. Louis Business Aviation Association (GSLBAA) luncheon celebrating 73 years of business aviation at Fabick Cat.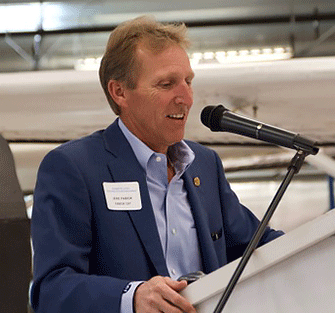 Wings of Hope President Bret Heinrich and Vice President Laura Helling kicked off the event by recalling the shared histories of Wings of Hope and the Fabick family that began with Joe Fabick founding the humanitarian nonprofit 55 years ago. Then, Fabick Cat President Jeré Fabick spoke about the company's seven decades in business aviation.
GSLBAA President Roger Mollman presented Wings of Hope a check for $14,850, proceeds from the annual golf tournament GSLBAA hosts benefiting Wings of Hope and the GSLBAA Educational Foundation. Then Roger recognized Fabick Cat Chief Pilot Jerry Kaemmer for 40 years in the aviation industry – which included flying international missions for Wings of Hope during the 1970s.
A great day for GSLBAA, the Fabick family – and Wings of Hope!